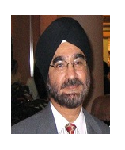 Amarjit Bakshi
Project Director/ CTO/ Business Development Executive/President & CEO.
Refining Hydrocarbon Technologies LLC
U.S.A.
Biography
Dr Amarjit Bakshi has a Ph.D and also undergraduate degree both in Chemical Engineering from University of Surrey, Guildford, UK.Over 30 years experience in Engineering/ Consulting Management at senior level in Process Engineering, Technology, Business Development, Licensing, Acquisitions, Alliances and Project Management and Engineering, Operations Management and Process Engineering. Provided proven leadership and vision with broader perspectives and able to manage multiple tasks and personnel on mega projects. For last 7 years I have been consulting in Upstream, midstream, transfer of oil/gas by pumping, petrochemicals with NOC's, major oil and petrochemical corporations including management consulting organizations like BCG, Bain Consulting group and so many other organizations. I have been providing consulting in operations, training of facilities engineering, technology, Catalysts, acquisitions, alliances, operations and corrosion in most of Oil and gas industry areas.
Research Interest
Petroleum and Chemical Engineering,Process Engineering